Supporting your evolution from property investor to property developer
Are you a property investor or entrepreneur with a passion for property? Would you like to learn how to create value, and generate wealth, through property development? We can help you to take the next step.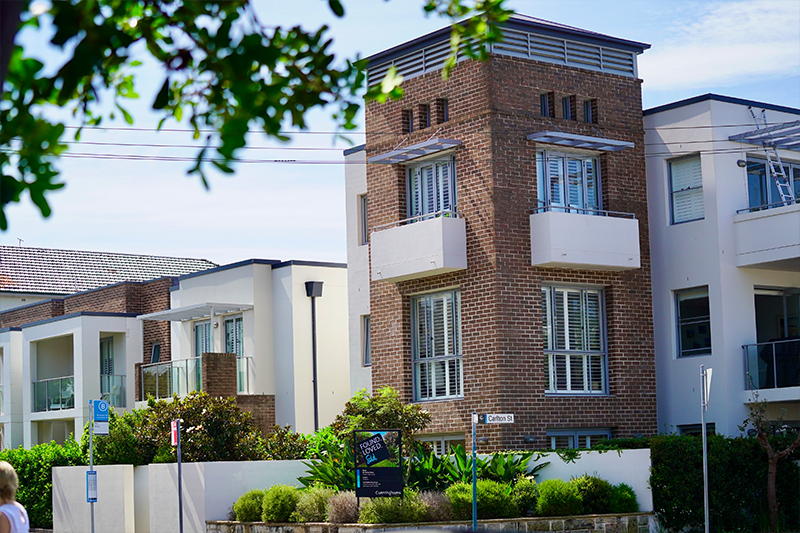 HOW WE HELP YOU OPTIMISE YOUR PROPERTY
DEVELOPMENT OUTCOMES
Through coaching and education we support you during your project development process, helping you to optimise your development experience and final outcome.
Market Gap
Educating you on the principles of property investment and development that drive; value, the behaviour of developers, decision making of banks and the behaviour of investors.
Knowledge Gap
Our development framework and process provides you with a clear structure and strategy to apply to your property development.
Experience Gap
Drawing on over 30 years of experience and case studies, we accelerate your learning and guide you through the process.
Relationship Gap
We provide you with access to our trusted supply chain of service providers, consultants and contractors.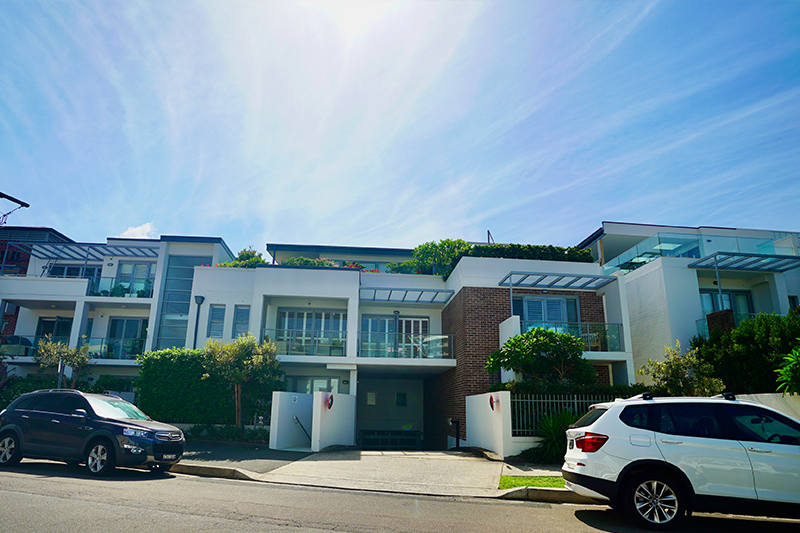 Optimising your property development outcomes
You may have existing property and want to reduce your development risk by engaging us as your coach. Or, you may want to become more educated in property development to increase your confidence before purchasing a property. Regardless of your level of experience, we can guide you through every step of the development process.
We help individuals who have identified gaps in their property development journey whether that be; market, knowledge, experience or supply. We achieve this by coaching and guiding you through the development process with your project; showing you how to deliver successful property developments. We can help you decrease the risks associated with your project and increase your certainty in optimising your development experience and final outcome.
I had initially been searching for an expert with local knowledge and networks to assist me in securing a property development. David not only had local property and development knowledge, he had a depth of experience across investment, valuation and development and was able to provide me access to his trusted supply chain. He took into consideration what I wanted to achieve and how I wanted to work and was fluid in his approach within his credible and tested framework. The results and value I have received have far exceeded my initial expectations. I continue my relationship with David because of his credible, honest and consultative approach.
John
I have on-sold the development after receiving an offer that provided me with a superior risk free return versus undertaking its delivery and associated risk. I continue to build my relationship with David as I look to secure my next development project.
Mark
THE PROCESS
D A Properties can support you by creating, and adding, value to your property development experience. You can choose to engage us for as long as we continue to add value. Our goal is for our clients to gain sufficient knowledge and experience to undertake their future property development endeavors independently.
Upon engagement, we commence with a foundation session with each client to ensure we are on the same page. Depending on the individual, one or two sessions may be required to lay this foundation.
As soon as the foundation work is completed, we move on to regular monthly coaching sessions. We find the cadence of two coaching sessions per month to be a great balance. It allows you to progress your project, then regroup with us to assess, adjust and align before advancing again.
CASE STUDIES
The following case studies showcase some of the property investments and developments we have recently managed and supported.
Download our Value Creation and Value Delivery Framework
Development can be seen as a series of sequential milestones. As each of the milestones is achieved in a development project there is an increase in certainty and a decrease in the risk. Value is created during the planning phase and it is then delivered during the construction phase. Download our Value Creation and Value Delivery Framework to understand the stages where you must invest the time and experience to deliver the highest value.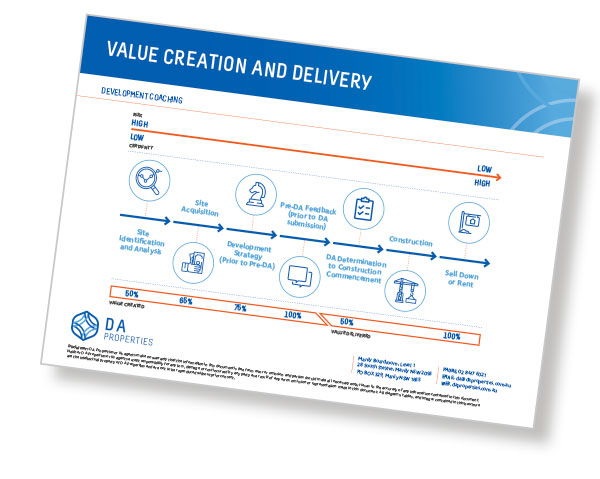 Find out more on how we can help you optimise your property development outcomes